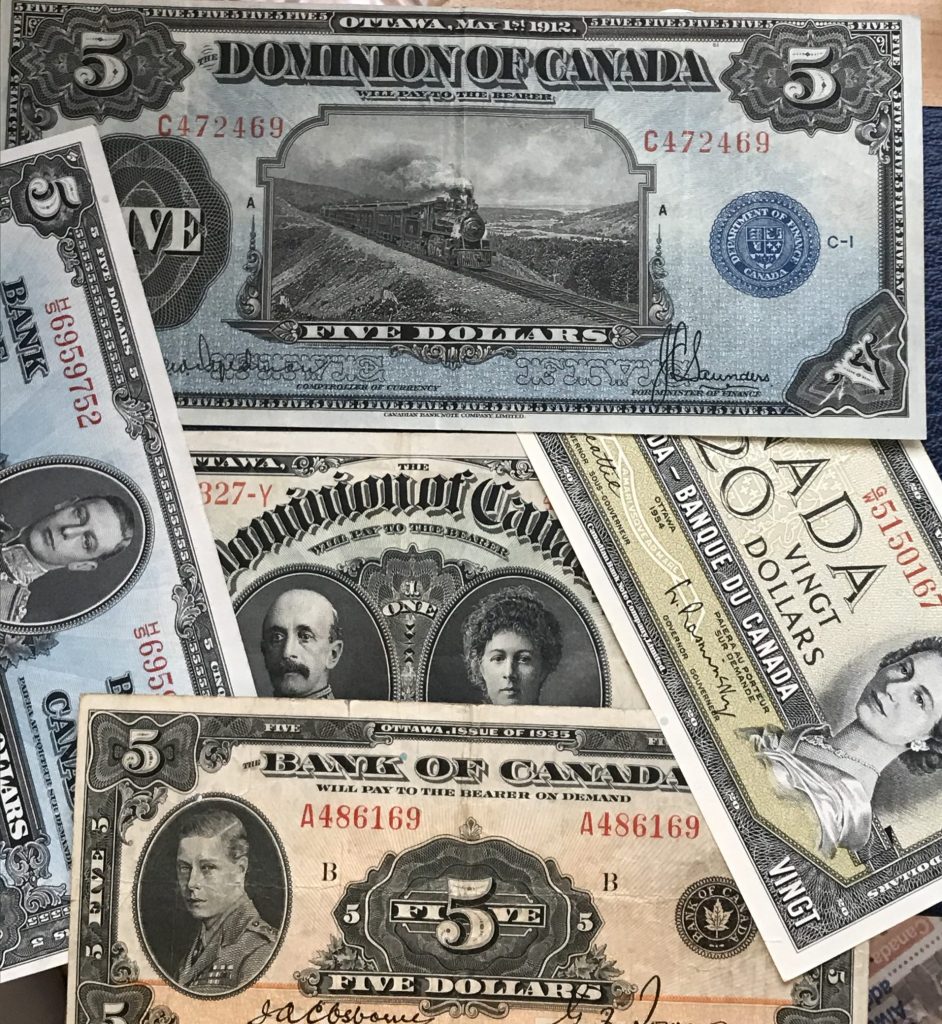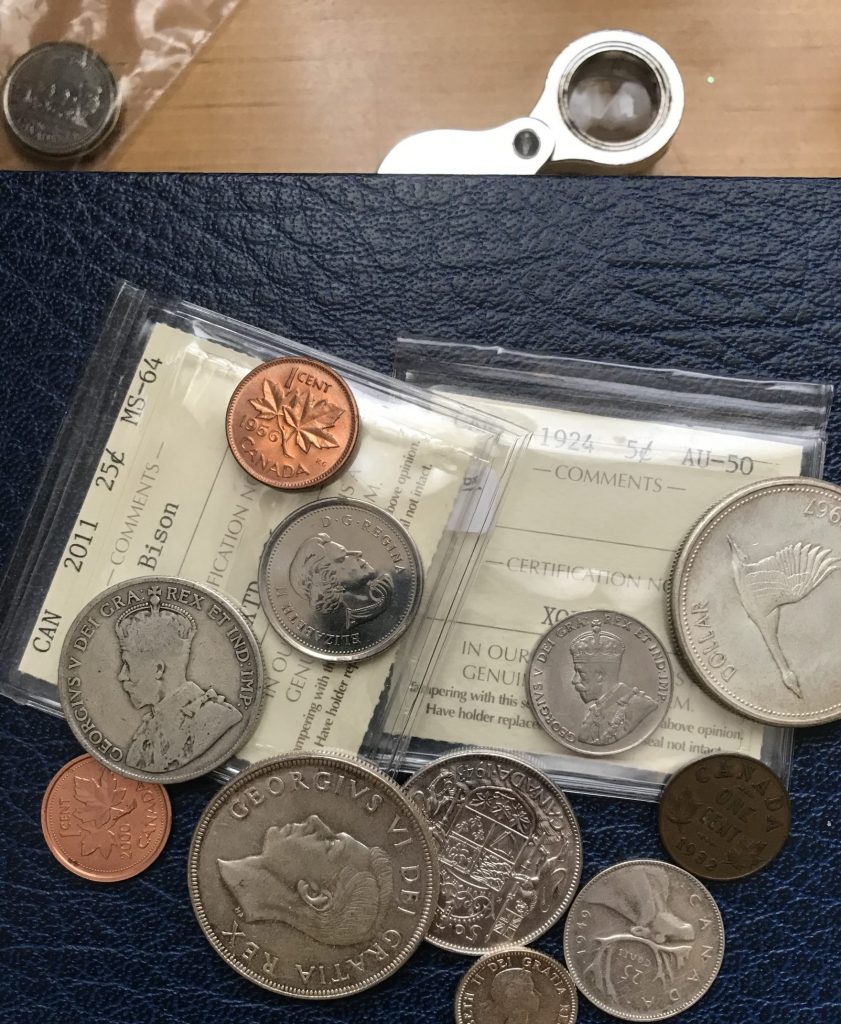 We need your collectibles
We are in need of your coins and banknotes in all conditions and grades, please contact us today!
Why Toronto Coins
I have been dealing in coins and paper money in Toronto and the Greater Toronto Area for about 20 years and I take pride in the reputation I have earned of being a fair and honest coin dealer. 
I use current catalogues along with my knowledge of the current coin market to detemine if your coins have a collectible value beyond the intrinsic silver of gold value.  I prepare an offer based on the highest of collectible or metal value which ensures that you get paid fairly.
I DO HOUSE CALLS…lets face it, the idea of loading up the car with coins just isn't very appealing. First, they are always heavier than you thought and if you have many boxes to move up the stairs, out to the car, out of the car into the store and if they aren't interested in what you have…well you understand what i'm talking about. 
PRIVACY….so your getting paid in cash at the local gold store and notice 2 other customers watching what your cash count is more than you….your home offers you not only comfortable surroundings but the privacy means safety, your safety! If you would prefer not to meet in your home I will meet you at your work, bank or just about anywhere else that is mutually agreeable. 
Getting Prepared To Sell
Most importantly…..DO NOT CLEAN YOUR COINS.
I have seen many coins that are completely ruined after having been cleaned. While it is not understood by non-collectors, coins that exhibit tarnish and dark spots are actually preferred by collectors over coins that have been cleaned as the cleaning process typically uses harmful chemicals and leaves permanent scratches on the coin surfaces.
While it is not required, if possible it would be best if you sort your coins by denomination and/or monarch.1967 and 1968 Canadian silver should be sorted into their own groups.If you have foreign coins it is best if these are also sorted into a separate pile.
If you've sorted your coins, count and record the face value of each denomination of coins.
Fill out the form at the bottom of this page and I will get back to you as soon as possible. I will typically respond back within a day or two and try to schedule a day and time to meet. 
COVID: Due to the Covid19 virus and social distance rules I wear a mask during home visits.   
NOTE:
This offer to buy coins is not a guarantee that I will buy some, any or all of you coins and may be withdrawn at any time depending on my inventory needs. Payments are usually made in Cash but dependent on the total value of transaction a Cheque may be offered.  Currency conversions will be performed at current exchange rate at time of transaction when required
Ready to Sell? Fill out the form to get started
Items we Buy
We buy all of the following items:
Canadian Silver Coins – Dimes, Quarters Half Dollars and Silver Dollars
Canadian Olympic Coins – Singles and Complete Sets
Canadian Gold Coins
Old Canadian Paper Money – Chartered Banks, Dominion of Canada and Bank of Canada
USA Silver and Gold Coins
All Foreign Gold including British Sovereigns
Unopened rolls of coins from pennies to dollars
Entire Estate Coin Collections  
We also buy: 
Broken jewelry or scrap gold items including rings, bracelets, single earrings etc.
Gold and Silver bullion bars and coins
Sterling silver items including flatware, cndlesticks, bowls, gravy boats, trays etc.
If it's made of Silver or Gold we will likely buy it.
The silver and gold markets are very volatile with prices at levels higher than they have been for years. Maybe now is the time to take some profit and sell the old coins you stashed away so long ago.
You don't have to live in Toronto to sell your coins to me, I visit small townsall around the Greater Toronto Area! If your outside of my travel area your coins can be shipped to me, yes even from the USA
My Travelling Roadshow Experience
I recently visited one of the companies that travel to many small towns across Ontario seeking antiques and collectibles including silver and gold coins and banknotes.
I took along 7 common date Canadian silver dollars, 1 US Morgan silver dollar and a few other high grade coins as a test to see what I would be offered.
On initial examination I was told that the few loose high grade coins were only good for spending, the offer I received was barely above the spending value.
Now my silver dollars were of interest, but not great interest apparently as I was offered $30 for the 7 coins and only $7 for the USA Morgan dollar.
In case you don't want to do the math this works out to $4.28 for each Canadian Silver Dollar, but the part of this story that is astonishing is that on that same day if I was buying from you, I would have paid you $14.50 for each of those silver dollar coins.
Hey I know that these people are in business to make money, that's what being in business is about, but to out and out take advantage offolks like this is WRONG and unethical.
My Point….Do your own due diligence BEFORE YOU SELL and ask other folks around your town if they have ever sold anything to these travelling buyers and if they were happy with the outcome.
If you want to get the most for your collectible coins and scrap jewellery please consider TorontoCoins.com before you sell anywhere else.
I mostly deal in Canadian coins but I also purchase coin collections that include a mix of coins from Canada , the USA, and other foreign countries.
Please send me an email for an honest opinion on the value of your coin collection